SARAH AVILES
7TH GRADE

My Love Beyond The Grave
This is a photo essay about my grandpa or, as we call him, papa! He was a very selfless and hard working man. I chose to do my photo essay on him because he was a very important person in my life. He was one of the few people I could trust with my eyes closed. He was always there for my family and me. He was the one person I could count on without a doubt. I photographed and interviewed my family so we could remember him together as we went through our family photos.
This is my brother Noah! Papa and Noah always had a close bond. I chose to take this photo because, out of all Papa's nietos, Noah looks the most like him. He also shares Papa's welcoming, kind, and funny character traits. When I asked Noah what his favorite thing Papa taught him he said: "Ge taught me to put french salad dressing on my arroz con salchicha."
This is my grandpa, or as we call him, papa! He was a hard worker. He never missed a moment to show me his love and affection. With my papa I always knew that there was never a missed opportunity. My papa loved to have his picture taken, especially if it was an opportunity to show how handsome he was.
This is Rolando Aviles Jr., my dad! He is Puerto Rican. My dad is the one holding the photo of my papa up to the camera. My papa's mischievous smile often revealed his next moves. My papa was a really proud man who took pride in everything he did, but one thing he was really proud of was his children. From the many things I remember is that he really liked getting all his family together and grilling in the backyard. He loved plants, and as a hobby my dad now loves planting, just like his dad.
This is my mother, her name is Ellis. She reminds me of my papa because of her kindness, selflessness, and the way she loves people. Mami and Papa had a very unique relationship. The first time Papa met my mami, he knew she would become my dad's wife. He told my mami: ¨Tu eres la negra de mi hijo.¨ There was nothing mami would not do for my papa and vice versa. Papa always encouraged mom to pursue her dreams of becoming a certified teacher. My mami completed her masters program in Early Childhood with a bilingual extension and dedicated her degree to Papa.
This photo will forever be one of my many favorite memories with my papa. It always gives me many emotions between happiness, excitement, and sadness. You may be wondering why it brings me sadness with all the smiling going on? This was my last birthday celebration I had with him. This was my 10th birthday party! He never missed one. With this photo I am constantly reminded that with my papa I never lacked anything. This picture also brings back many memories of how we used to sit together and discuss how he was going to dance bachata with me at my Quince.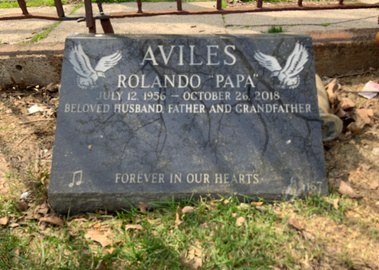 A few weeks ago we went to visit my papa. When I saw his grave I was overwhelmed by his presence. I also felt a wave of many emotions come over me. While I was sad, I was also reminded and very grateful that I had the opportunity to have a papa like him. But the reason I wanted to capture this photo was because of my title, which is, "my love beyond the grave." When I look at this photo, I am always reminded to be thankful of the people surrounding me because you will never know when their day will come.
I found a photo of the day my family and I surprised our papa with a cake from his favorite bakery. He was turning 62 years old. My mother made sure we celebrated his special day. Papa loved to celebrate others, but did not like for people to go out of their way to celebrate him. He was surprised and full of joy. This picture also celebrates the legacy he left his family, which was to waste nothing and celebrate all. This was his last birthday and I am glad we celebrated him.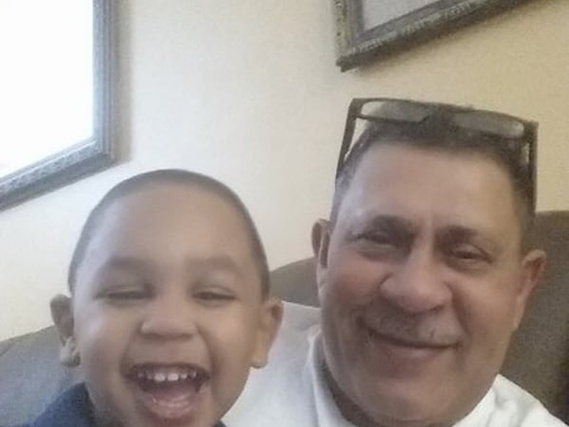 When I look at this photo it reminds me of how brave my papa was. In this picture he was in the hospital recovering from something severe he had experienced. Although he was in the hospital, he did not allow anything to steal his joy. His condition did not define him. In the same way my little brother is full of joy, braveness, and radiance, like my papa. Look closely and see their resemblance and the way this picture screams joy. Failure does not define who we are but the collection of memories, joy, and perseverance is what defines who we are.
This is my dad. Many people say that we look alike so now I call him my twin flame. In this photo we are holding my papa's guitar. This is probably my favorite item he left behind. Every time is see the guitar I am reminded of his amazing musical skills. He will forever live in our hearts and memories.