YOSELIN JARA
8TH GRADE
Mama Lola (Grandma) and I
The project is a collage of different times me and my grandma have spent together. My grandma and I have a very strong relationship where we trust and love each other. She is my best friend who I can trust. I hang out with her most of the time because we have a close bond and help each other out. I will be sharing images of times my grandma and I spent together. This is important because she and I have a very close relationship. We are inseparable. Throughout my childhood she raised me because my parents used to work. I tell her everything you can possibly think of. She plays a big role in my life. She taught me so many things and I am still learning new things everyday. I am really glad I have her and can document this experience with her.
This is a portrait of my grandma and me when I was younger. I don't exactly remember where this picture was taken or who took it, but we were enjoying our time together. I was kissing her cheek as a loving gesture. This picture really expresses the amount of love we have for each other. I love the smile she has on her face and the loving gesture of me kissing her on her cheek.
This is a cross pendant necklace that my grandma gave me. This signifies a lot because she told me God will be with me everywhere no matter what.
This image holds the most valuable things for my grandma. She prides and honors God a lot. She has taught me to always go to church and never forget to thank God for everything. This wide shot is of her altar with candles and flowers.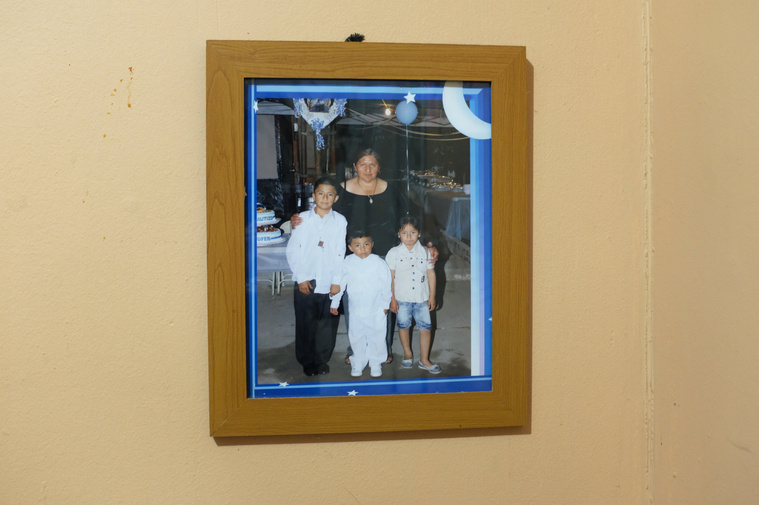 We have a photo of grandma with all three of her grandchildren at our house. At the time my little sister hadn't been born yet.
English Transcript of Interview
Me: When do you think our bonding time began? Can you tell me more about it?

Mama Lola: Well our bonding moment began when you were born. The moment you were born was an amazing day.

How would you describe our relationship?
We have a very nice relationship. I feel like our relationship is very open and honest.
How would you describe your life without grandchildren?
It would not be the same, I would be a completely different person. All my grandchildren are a blessing to me.
What was your initial reaction when you found out about me?
When I found your mom was having you I felt devastated, however I knew it was a blessing. I told your mom she has to become grown up because having a baby is a big responsibility.
What was your favorite memory of us?
I love all of our memories. I don't specifically have a favorite memory of us. I love all of our memories.
What is something you would like to see me accomplish in life?
Something I would like to see you accomplish in life would be to finish your studies. Finishing school is very important and necessary.
If there was an opportunity to change anything, would you take the chance?
No. I would not because everything happens for a reason. I love every part about my life.